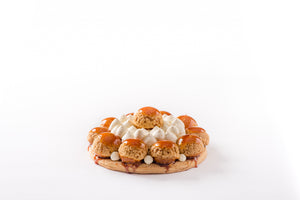 A very famous french cake where 2 classic flavours : vanilla and caramel meet a variety of textures...the crunch of the caramel, the flakiness of the puff pastry, the smoothness of the vanilla custard .... 
Puff pastry

Caramelised profiteroles

Vanilla custard
Contains egg, gluten, and dairy products
ALLERGY INFORMATION
We would like to inform our customers that we cannot guarantee a 100% allergy free environment as, at Louis Boeglin Pâtisserie, we are using different kinds of raw materials that include wheat, gluten, dairy products, ground and tree nuts, eggs, fish/shell fish and soy. These Ingredients are all common causes of allergic reactions. Independent medical and specialist advice is recommended to any concern customer.