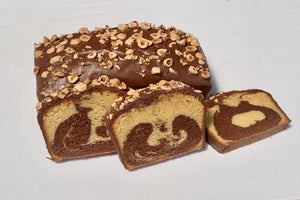 Vanilla-chocolate marble cake
Perfect for snacks, morning teas...
This cake will last for days.
Super tasty and completely coated with milk chocolate and toasted hazelnuts
- Premium dark chocolate 55%, butter, eggs, sugar, flour, vanilla bean, toasted hazelnuts, Milk chocolate 35%.
(Approx) 21 cm length, 11cm width, 11cm height
Contains gluten, eggs, nuts and dairy product
ALLERGY INFORMATION
We would like to inform our customers that we cannot guarantee a 100% allergy free environment as, at Louis Boeglin Pâtisserie, we are using different kinds of raw materials that include wheat, gluten, dairy products, ground and tree nuts, eggs, fish/shell fish and soy. These Ingredients are all common causes of allergic reactions. Independent medical and specialist advice is recommended to any concern customer.