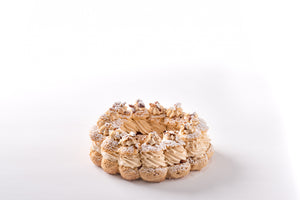 A very traditional French dessert made out of choux pastry and a hazelnut praline filling, usually a butter cream praline. Our version has 3 different fillings : praline paste, praline custard and praline mousse. The 3 of them make our version of the Paris-brest very intense, with strong flavours without being too rich and heavy.
 Home-made praline paste

Choux pastry

Praline custard and fillings 
Contains gluten, eggs, nuts and dairy product
ALLERGY INFORMATION
We would like to inform our customers that we cannot guarantee a 100% allergy free environment as, at Louis Boeglin Pâtisserie, we are using different kinds of raw materials that include wheat, gluten, dairy products, ground and tree nuts, eggs, fish/shell fish and soy. These Ingredients are all common causes of allergic reactions. Independent medical and specialist advice is recommended to any concern customer.