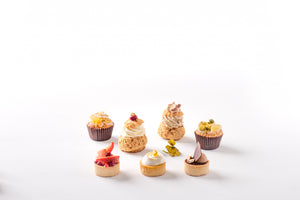 Assorted bite size items : mini profiteroles, mini cakes and mini tarts. Textures, flavours, colours......a great option for morning or afternoon teas, or simply because instead of 1 single large cakes you prefer a variety of smaller ones!
 Mini tarts (Lemon meringue and  passion fruit )

Mini profiteroles (Caramel and praline)

Mini Cakes (GF and DF) (Raspberry and pear)
Contains flour, eggs, nuts and dairy products
  **** Photo is for display only
24 Pack includes : 4 items of each kind
12 Pack includes : 2 items of each kind
ALLERGY INFORMATION
We would like to inform our customers that we cannot guarantee a 100% allergy free environment as, at Louis Boeglin Pâtisserie, we are using different kinds of raw materials that include wheat, gluten, dairy products, ground and tree nuts, eggs, fish/shell fish and soy. These Ingredients are all common causes of allergic reactions. Independent medical and specialist advice is recommended to any concern customer.